Stump Removal
We have the machines for large and small stump removal. From the largest storm damaged uprooted trees to the small foundation shrubs we can do it all. From the largest shade trees in the open front lawn to the smallest ornamentals inside the fenced in back yard and pool area we can take care of the job.
Beautify your landscape and do away with unsightly and dangerous stumps. We can offer stump removal to the customer who wants to eliminate stumps in the open lawn. No stump or roots to trip over.
The stumps are cut in place and not ripped out of the ground. Cleanup is easy.
We can remove stumps for the customer who may want to replant in the same location or nearby after tree or shrub removal. And we can remove stumps for the contractor who is excavating for any purpose and needs to cut out the stumps and not haul away the stump and root mass or struggle with ripping the stump out of the ground.

More information about stump removal »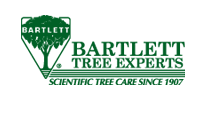 James Irish Tree Experts is proud to be a division of Bartlett Tree Experts, and our staff now has the backing of an international tree-care company and tree research laboratory to help continue providing excellent tree service and shrub care in the Princeton area. View a complete list of professional tree services offered by Bartlett.