History
James Irish Tree Experts was started in 1979. We began serving Princeton, Montgomery and nearby communities with only one truck and chipper. Our modest beginnings and the small size of the urban forest have grown on a parallel track. Today the business has a fleet of trucks and equipment and the urban forest has expanded and grown.
Population increase, housing and commercial development and the sophistication of the tree business have changed in the past thirty years. Evolution of equipment and knowledge and understanding has progressed. The dynamic landscape of trees growing, dying, being thinned is as much about nature taking its course as about people sharing the environment for their material benefit.
We have kept pace with acquisition of good equipment to complete the work in a safe and efficient manner. We have also kept pace with an understanding of the various phases of the industry to offer customers up to date knowledge to care for their property or to react to specific needs.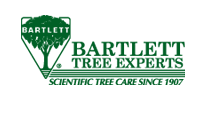 James Irish Tree Experts is proud to be a division of Bartlett Tree Experts, and our staff now has the backing of an international tree-care company and tree research laboratory to help continue providing excellent tree service and shrub care in the Princeton area. View a complete list of professional tree services offered by Bartlett.